Introducing Insulin Plant
Introducing Costus Igneus, better known as Insulin Plant. As you might have guessed, Insulin Plant got its name from the anti-hyperglycemic properties that the leaves of the plant possess. Multiple studies have been carried out to evaluate the anti-diabetic potential of Insulin Plant. A cross-sectional human study, published in the Journal of Clinical and Diagnostic Research, found that regular consumption of Insulin Plant leaves by diabetic subjects resulted in a "statistically significant reduction in the fasting and postprandial blood sugar levels in all the patients who consumed the leaves."
Below is a summary of the findings from that study:
Statistically significant improvement in blood sugar levels in 100% of the patients who consumed Insulin Plant.
Improvements were noticed from day 15. Glycemic control on the 60th day was better than on day 15 and day 30.
The dose of insulin could be reduced to half in all the patients who were on insulin.
Patients who were on oral hypoglycaemic drugs (metformin and glibenclamide) and non-allopathic medications, whose blood glucose was not under control, could get their blood glucose levels under control after consuming the leaves.
In patients who had non healing leg ulcers, or recurrent urinary tract infections, the problems resolved.
Patients who could not undergo surgery for cataracts, due to fluctuating and high fasting blood sugar could successfully undergo surgery with no post operative complications.
They are continuing Insulin Plant supplementation, since it is beneficial for glycemic control and protects them against the development of diabetic complications.
Why You Should Supplement your Diet with Insulin Plant
Support Healthy Blood Sugar Levels
Improve Cholesterol Levels
Results Backed Up by Real Human Study
Great Value - Less than 20$ per Month
No Reported Adverse Side Effects
Can Be Used by Type 1 and Type 2 Diabetics
Money Back Guarantee
Made in the USA in an FDA Registered Facility

Dedicated to Improving your Lifestyle Without Breaking the Bank
We developed our Insulin Plant Leaf Powder and Insulin plant Capsules with the purpose of improving the lifestyle of people who have trouble keeping their blood sugar under control. Our goal is to provide the best possible supplement at the best possible value. We achieve this goal by providing you with a supplement that has seen positive results across the board in a real human study, at the incredible value of less than $20 per month, as well as a money back guarantee.
Risk Free Ordering - Money Back Guarantee
We don't want you to miss out on the benefits that our product can provide, which is why we offer a 100% money back guarantee if you are not completely satisfied with the results. This means there is absolutely no risk in ordering our Insulin Plant Leaf Powder and Insulin Plant Capsules!
Customer Testimonials
Here is just what a few of our customers had to say about Insulin Plant supplements:
It works, I been on it about a month and got big improvements. My sugar stayed in 300 all the time, now it stays about 150, I have never had it stay so close to where I wanted it.
- Daniel
I just wanted to say thank you because your product is LIFE! My blood sugar ran in the upper 300 a week ago and now it runs between 110-120. I've seen a change in my blood sugar within 24 hours. I was just only on Metformin and Glipizide and it still wasn't enough to keep my numbers in range. This powder knocked it down so fast I'm just still shocked at my numbers. I'm just so blessed now that I can enjoy a little birthday cake in moderation without feeling guilty. Thanks again and I definitely let everyone know about your product and how it gave me my life back.
- Tanya
It works takes about a month but dropped my blood sugar 60 points!!
- Larry
My sugar level dropped from 400 to 220 to next day.
- Aurelia
Look at the significant drop of my blood glucose from 283mg/dL to 197mg/dL. This without insulin (40U/meal) and Metformin 1000mg.
8:16 283mg/dL Before dinner...
11:55PM 248mg/dL after 4 hrs having dinner with baby spinach, baby cucumbers, white chicken meat and a piece of chicken thigh and a drumstick.
3:07AM: 197mg/dL Out of curiosity checked my blood glucose and very surprised with the result. Then ate baby cucumbers and #carrots for a snack.
12:41PM: 235mg/dL Apparently, carrots have high sugar contents which I will eliminate from my strict diet or perhaps minimize intake of carrots
So, without insulin injection and 1000mg of Metformin and drinking insulin plant powder really works!
- Jay
I have recently began taking it and the last 2 mornings my readings have been in the 70's as compared to 120-180.
- Monica
It works for me from 190 to 80 every morning.
- Jorge
I take a variety of herbal supplements to help manage blood sugar. It wasn't until I started taking Insulin Plant that I noticed the biggest changes. Now I may try backing off some of the others. YES, IT WORKS.
- Per
Although these are reviews by real, paying customers, you should note that results may vary from person to person.
Recommended Dosage
The recommended dosage for our Insulin Plant Capsules is 6 capsules per day. This means that each bottle will last you two months.
As for our Insulin Plant Leaf Powder, the recommended dosage is 1 scoop per day. Each container will also last for two months.
Larger individuals or people that are slow responders to supplementation might consider taking double dosage to begin with.
Purchase Our Insulin Plant Supplements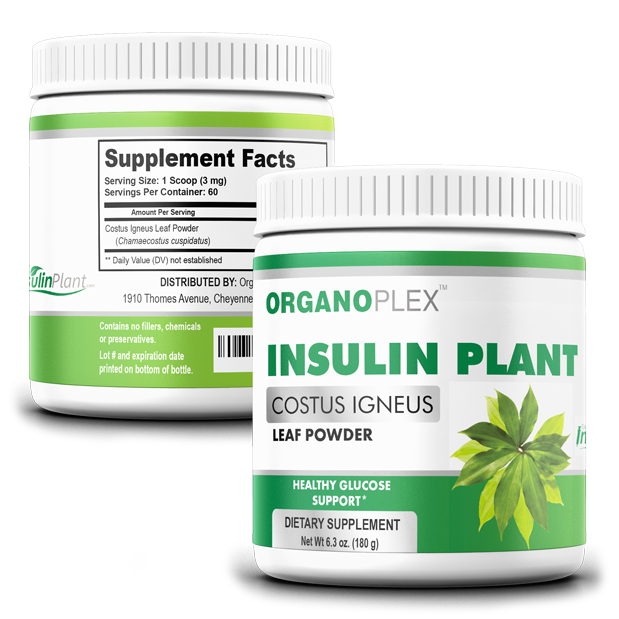 Insulin Plant Leaf Powder
$54.00
$45.90 $54.00

Save 15%
$48.60 $54.00

Save 10%
Purchase Options
Subscribe and Save$45.90$48.60
Delivery Frequency
You have complete control of your subscription.
Skip, reschedule, edit and cancel deliveries anytime to match your needs.
Don't want to subscribe? No problem!
We still want to offer you a discount!
Buy 2 and Save 20%
$86.40 $108.00 Save $21.60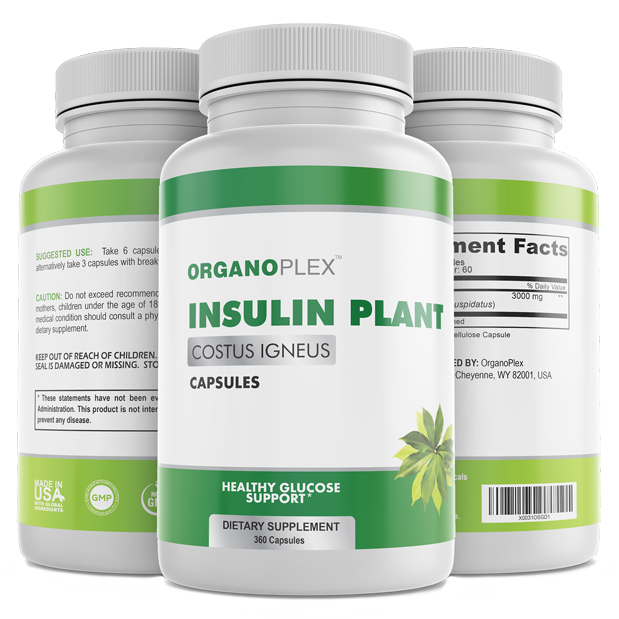 Insulin Plant Capsules
$59.00
$50.15 $59.00

Save 15%
$53.10 $59.00

Save 10%
Purchase Options
Subscribe and Save$50.15$53.10
Delivery Frequency
You have complete control of your subscription.
Skip, reschedule, edit and cancel deliveries anytime to match your needs.
Don't want to subscribe? No problem!
We still want to offer you a discount!
Buy 2 and Save 20%
$94.40 $118.00 Save $23.60
Frequently Asked Questions
Q: How long does each bottle/container last?
A: When taken at the recommended dosage, each bottle/container will last you two months.
Q: How do I consume Insulin Plant Leaf Powder?
A: Simply add a scoop of Insulin Plant Leaf Powder to any beverage of your choice, hot or cold. You can also add it to boiling water to make a delicious green tea.
Q: Should I take this with my blood sugar medication?
A: Insulin Plant is intended to be used as a supplement together with your medication. Of course, it is always recommended that you speak with your healthcare professional before using any dietary supplement if you have a medical condition.
Q: Will I be charged automatically every month?
A: We will only add you to our subscriber list if you explicitly choose the subscription option. We will never charge you without your permission.
Q: How long before I see results?
A: Many of our customers see results in as little as few days, however, it may take up to 60 days before significant results are noticed.
Q: Where do you ship from and how long does shipping take?
A: We utilize multiple warehouses across the United States to store our inventory. By doing this, we ensure that you get your order in a timely manner.
If you choose the free "Standard Shipping" option, your order should be delivered within 5 business days.
If you choose the $6.00 "Expedited Shipping" option, your order should be delivered within 2 business days.
Contact Us
If you have a question that we didn't answer, you can click here to contact us. We will get back to you within 24 hours!